---
Is it important to children to play? The answer is YES. And I'll tell you why.
Playing for baby has not been considered as important, neither of most adults or professionals. Previously there were discussed often about playing was unimportant, and as a kind of "nonsense". It was certainly not important as the adults were doing. This could not be more wrong…
In recent decades there gas been much research on play, and we know today that the game is very important for many aspects of a child's development. For example, it's a sign of both physical and mental that a child playing. And it's really something wrong if your child rarely or never play at all.
---
Different areas of development
There has been considerable focus on play in the kindergarden, and also in school. We know today that the playing can stimulate all aspects of a child's development. Play is also involved in developing the creativity and ability to solve problems, and the child learns something about how the world works both socially and physically.
A child will for example be able to experiment with dropping something on the floor or throw something. The child then figured it out that the thing dropped, and maybe that something also break or bounces. When your child play with other children or adults, he/she learns how different people react to different things that happen in the game. The child will also learn when they get hurts, laughs at what is said or done, get angry or upset. The child learn to take the initiative they self, find the stories and activities, and to follow other's inventions and ideas. The child will also learn to negotiate about playing rules, who should do what, how to share toys and so on.
---
Although we now know a lot about the playing and generally have a more positive outlook on the game, there are also forces and tendencies of our time which can reduce and limit children's ability to play freely out of their own motivation, creativity and own interests.
For example, many who want kindergartens to also increasingly will focus on teaching children academic skills such as reading and math. There is not necessarily anything wrong in itself, but the way it carried on, can in some cases reduce the time children have free play. The more activities the adults want kids to spend their time on, and the more the adults controlling activities, the less time is there to the children to free play. When we try to get kids to practice the skills through various forms of play as the adult controls, the playing is still controlled by an adult and not the child.
---
Changes in the way children spend time at
Today, children from a very young age are more and more time in front of one form or another for display, whether it is television, computer, a video game, a cell phone with games or similar. This is a form of activity in which the child is less physically active than in normal play. Certainly, the child is not completely passive when watching tv. It comes with and interpret what it sees, but it sits quietly, and it follows a course of events that others have made. The child can not do anything to influence what happens on the screen, the screen does not respond to the child's experiences, initiatives, thoughts and feelings about what is happening. In video games, this is a little different. The child controlling it more, but "action" is still highly structured game, and the child can not significantly affect the rules of the game and storyline.
Children do not learn as much language of seeing a man who speaks from a screen, that of having a real human being together with them who are concerned that the child is doing.
---
Protecting the free play
It is important to note that we have mentioned above, so that we can "protect" children's natural, active and self-motivated play. We can do this by conveying a positive attitude towards free play both to children and others by failing to intervene unnecessarily in and controlling the children's play, and by having enough time to let the kids to play on their own initiative, on the basis of their own interests and their own imagination.
---
Fisher-Price Laugh & Learn Love to Play Puppy
Price: $42.99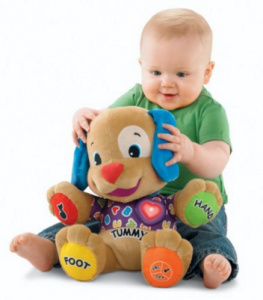 Shipping: Shipping in U.S and approved countries. Click here check approve countries.
Best Price To Buy: Amazon.com
Weight: 1.7 pounds
Battery Required: Yes (3x AA included)
Product Rating: 4.5/5
Pros:
Invite baby to learn through singing and playing
Making connections and learns the Puppy's body part
Entertainment, educational and fun
Good looking
Enjoyable toy
Cons:
Demo mode has to take of. Do this by pulling a plastic tab out of his back in order him to fully function (otherwise) his song cut short). A bit hard to find the plastic tab and people misunderstanding the function and call it a bad toy. But it's really not.
---
 

Fisher-Price Deluxe Bouncer, My Little Snugabunny
Price: $55.99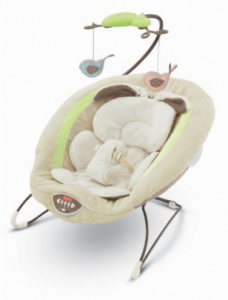 Shipping: Shipping in U.S and approved countries. Click here check approve countries.
Best Price To Buy: Amazon.com
Weight: 7.8 pounds
Battery Required: Yes
Product Rating: 4.5/5
Pros:
Soft, contoured seat cushion for maximum support
Lighweight and portable
Easy maintenance with machine wash for seat cover
The songs and nature sounds are soothing
The volume can be controlled
Vibration
Cons:
Vibration is not strong
Battery only last for a month, depends on how much you use it
---
VTech Sit-to-Stand Learning Walker (Frustration Free Packaging)
Price: $20.00

Shipping: Shipping only in U.S
Best Price To Buy: Amazon.com
Weight: 5.6 pounds
Battery Required: Yes (2x AA included
Product Rating: 4.7/5
Pros:
Interactive learning baby walker
Removeable play panel
Over 70 sing-along-songs, music, sound effects and fun phrases
Helping baby to walk
Con:
The phone is not connected to the panel.
---
Baby Einstein Discover & Play Piano and Baby Neptune Ocean Orchestra
Price: $30.38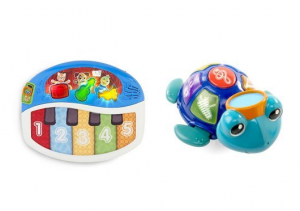 Shipping: Shipping only in U.S
Best Price To Buy: Amazon.com
Weight: 1.1 and 1.6 pounds total = 2.7 pounds
Battery Required: Yes (3x AA and 3x AAA included)
Product Rating: 4.6/5 for turtle and 4.4/5 for piano
Pros:
Engaging and interactive. Classical music. (Turtle)
Piano, drum, cello, xylophone and harp. (Turtle)
Colorful lights indicates active instrument and dance along to the music. (Turtle)
Soft piano keys, easy for baby to touch. (Piano)
3 play modes instruments, numbers and animal sound (Piano)
Good melodies. (Piano)
Con:
Lights may be too bright. (Turtle)
Sound volume could be stronger. (Piano)